Summer Program
Overview
Program at a glance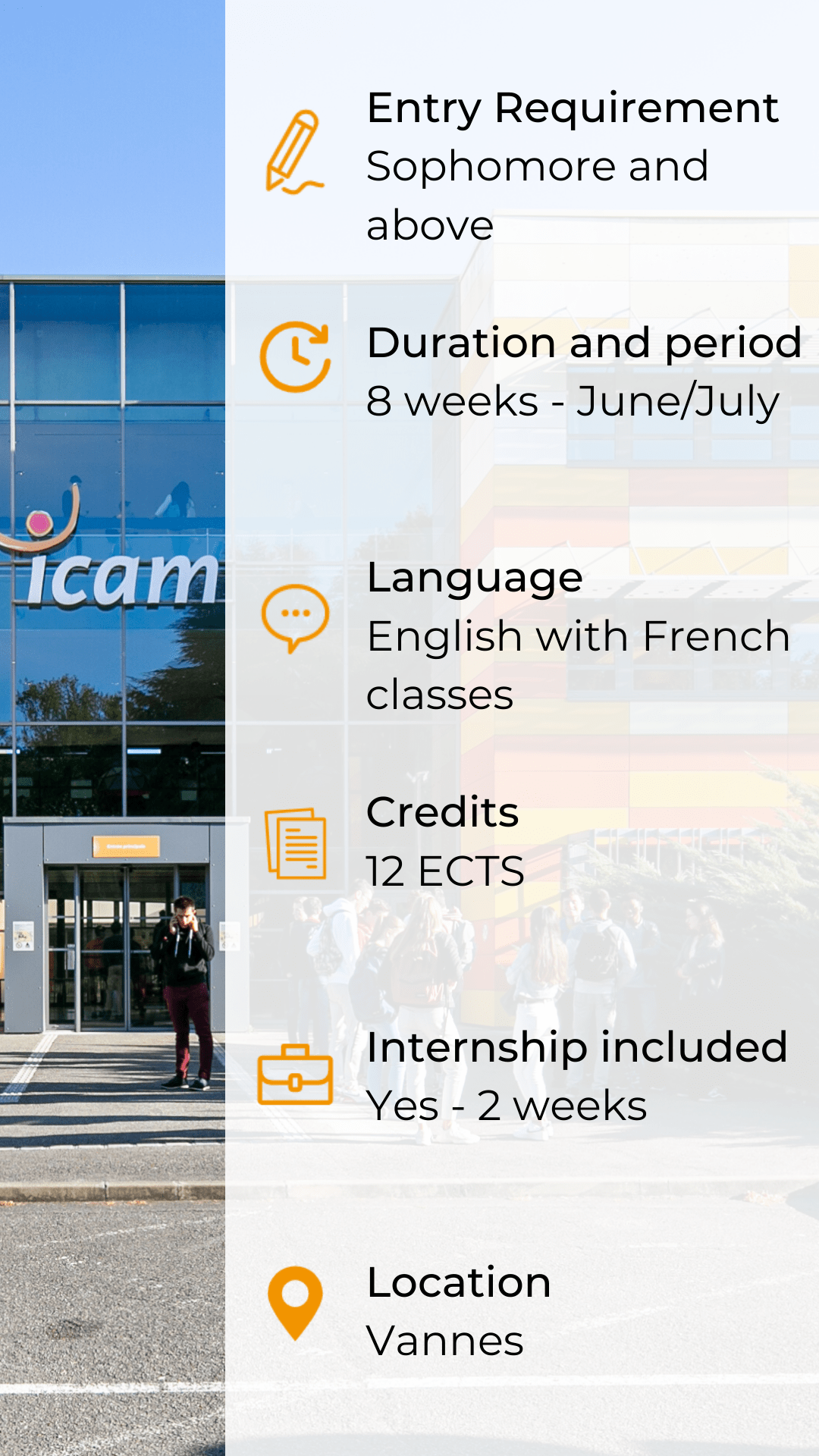 Why choose this program?
This summer program will challenge you to develop your sensitivity and awareness of crucial issues for future scientists and engineers. 
Integral ecology leads to a broad scale of reflection, not only on the technical level but also on the social dimension of very complex issues. You will also be invited to take a step back in order to question our current way of living, the patterns of production, consumption, the care we bring to our common home, our planet with its limited resources.
Putting theory into practice is also very important for Icam. You will be able to foster your ability to imagine solutions with the best and sustainable social benefit through various workshops and industry visits, culminated by an internship in a French company.
Program highlights
A vibrant and complete experience offering 

Knowledge and skills on "integral ecology"

Human development

Cultural awareness

Discovery of integral ecology via visits to companies and renewable energy sites

Internship in a French Company selected by Icam

Western France's Gulf of Morbihan provides an amazing backdrop to commune with nature and experience French culture

Immersion in a French family or flat sharing with other students

Multiple opportunities for cultural, travel and sports immersion
Icam's Holistic Pedagogical approach
The Summer Program uses Problem-based learning to ensure experiential learning during the discovery and analysis of physical systems, acquisition of new notions, and design of numerical tools. 
Project management and intercultural communication skills are also developed while working in groups composed of students with varying cultural and technical backgrounds. 
Immersion into French culture is reinforced not only through the French language and culture classes, but also by living with a French host family or flat-share.
Extra-curricular activities such as sailing, kayaking and hiking promotes experiencing nature while developing a well-rounded student profile.
The internship at a French company marks the culmination of both the technical and essential skills acquired throughout the program.
Location
Icam Bretagne Campus, in the city of Vannes
Language
English with French language classes
---