Master's Level Professionalization – Spring Semester
Overview
Program at a glance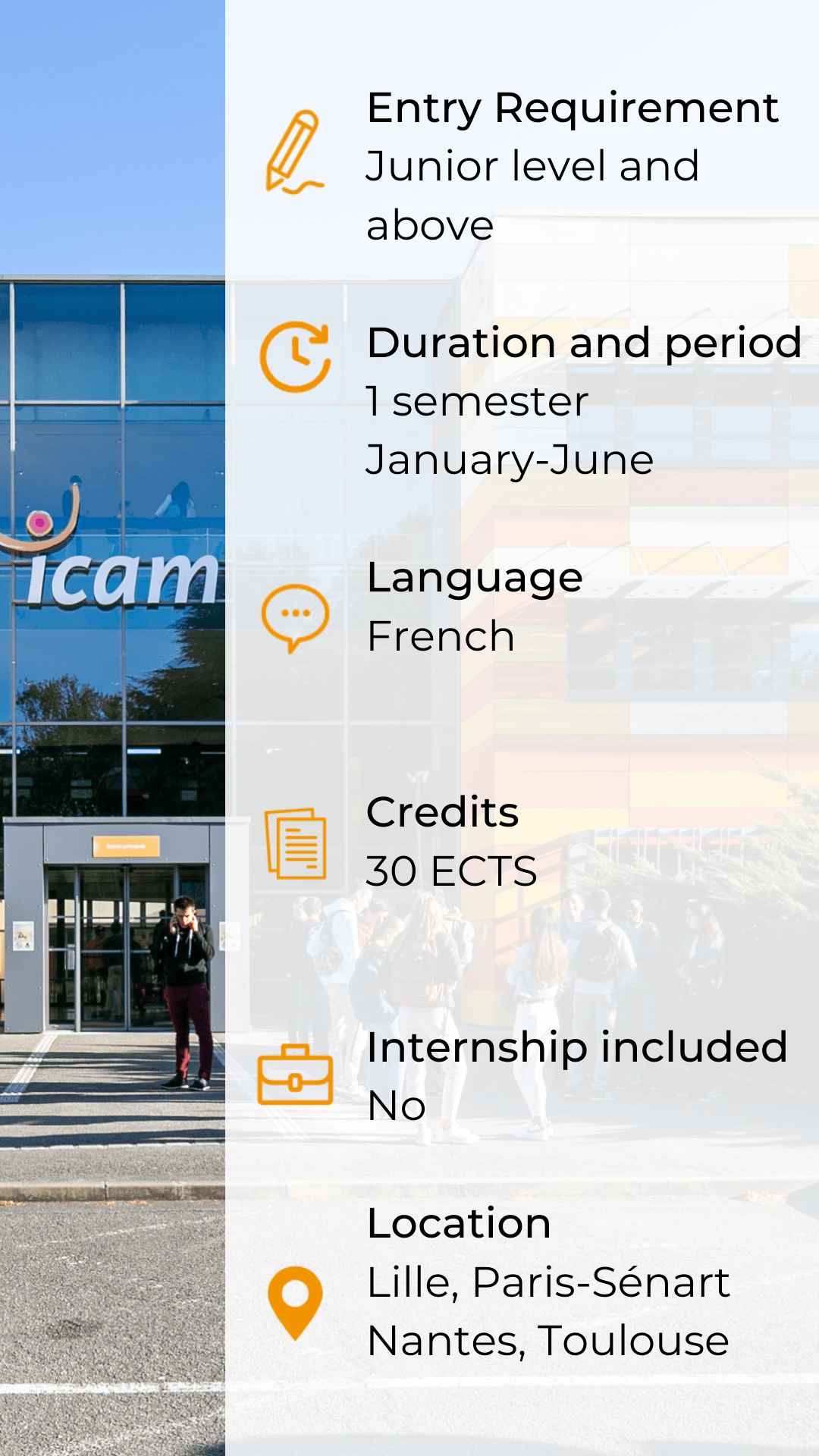 The Master's Level Professionalization Semester (Spring) – shown in orange below is part of a 4-semester program allowing students to study at Icam for different durations, from 1-4 semesters, depending on their professional and academic goals.
Theory meets practice and industry exposure in this professionalization semester which uses an integrative approach to engineering. The program is designed with, delivered by, and/or directly coached by industry representatives, which ensures an immersion in updated industry practices and realities. Technical training is also supplemented by modules in Industrial Management, Entrepreneurship and Social Sciences, preparing the students to become future decision-makers and leaders. 
Participants do not need to be master's students to participate in the program. Juniors and above are accepted.
Why choose this program?
You will be exposed to industry practices and realities: The courses are taught by experts from specialized companies. Case studies and projects are taken from real technological and industrial problems, with some projects being directly coached by industry representatives.
You will get a holistic view of the engineering domains. Technical courses are supplemented by courses in management and humanities.
You have the opportunity to acquire both theoretical and applied knowledge and skills in your choice of concentration areas. The selection of concentration areas offered by each Icam campus is based on the specialization of their industry partners in the region.
TIP: Make the most of your time in France and stay for a full year!
Invest a whole year at Icam with the first semester taught in English or French and a second Master's level professionalization semester in French at one of the 4 possible locations. It will let you truly experience French culture, gain valuable foreign language skills and have access to French companies.
Location
Students may enroll in an academic semester at any of Icam's campuses in France: Lille, Nantes, Paris-Sénart, or Toulouse. 
Language
A B1 level in French is recommended.
---