Master's Level Academic Semester – Fall Semester
Program at a glance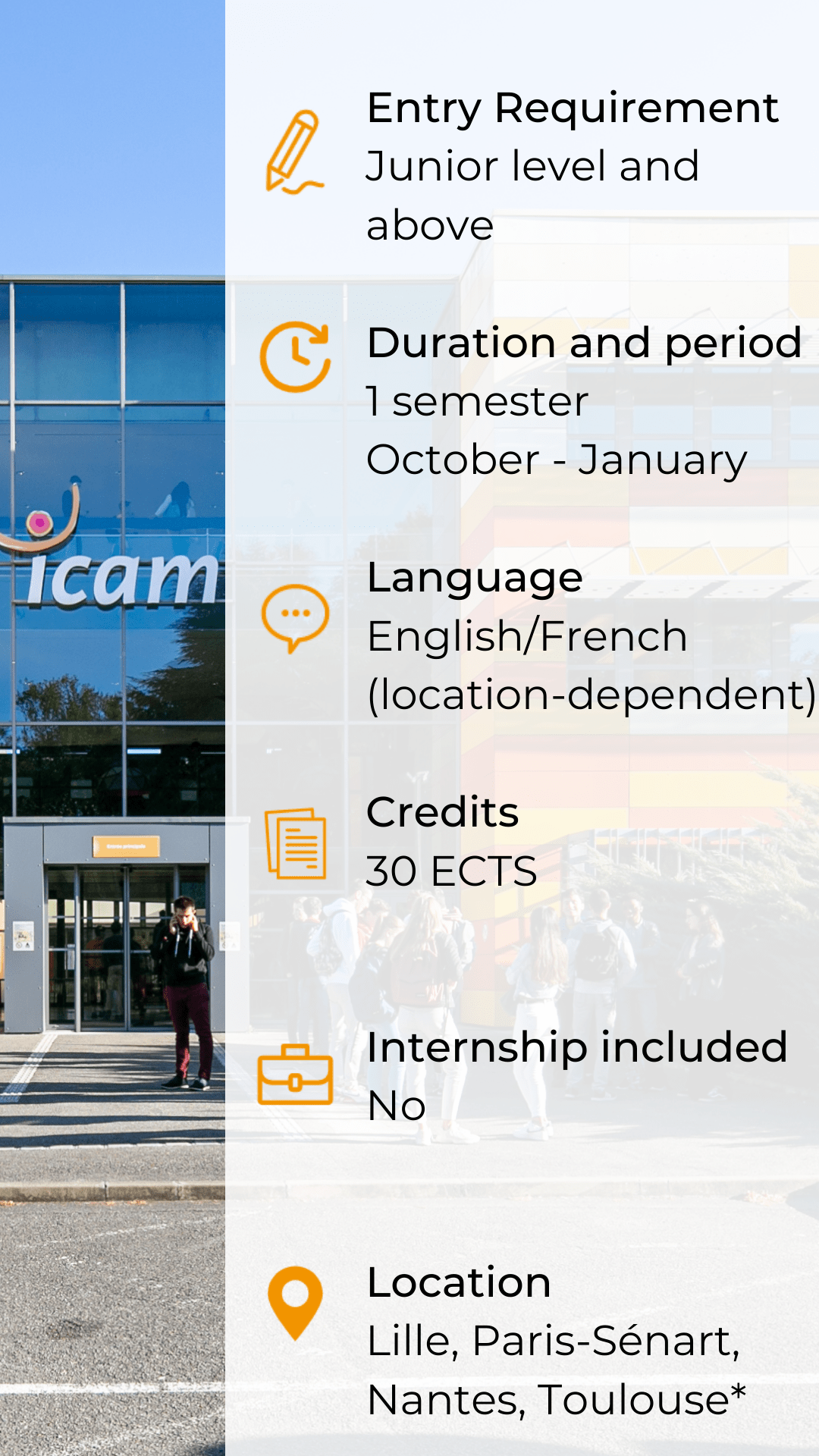 This semester-long program is designed to expose the future engineer to the various engineering domains that are central to today's increasingly complex interrelated environment.  Technical training in Mechanical & Electrical engineering, Digital automation, are supplemented by subjects and projects in Industrial Management, Entrepreneurship and Social Sciences, equipping the student with skills needed as future decision-makers and leaders.
This Master's Level Academic Semester (FALL) – shown in orange below is part of a 4-semester course allowing students to choose to study at Icam for different durations, from 1 to 4 semesters, depending on their professional and academic goals.
Participants do not need to be master's students to participate in the program. Juniors and above are accepted.
Option 1a: Master's Level Academic Semester – Fall
Why choose this program?
Icam strongly believes that today's increasingly complex and interconnected world needs engineers who are capable of seeing the bigger picture. An academic semester at Icam can give you this helicopter view on the other fields of engineering that you might have had previous limited exposure to, as well as additional management training.
TIP: Make the most of your time in France and stay for a full year!
Invest a whole year at Icam with the first semester taught in English or French and a second Master's level professionalization semester in French at one of the 4 possible locations. It will let you truly experience French culture, gain valuable foreign language skills and have access to French companies.
Program highlights
A balanced dosage of the different academic and applied fields: 

Multidisciplinary competencies in engineering and technology 
Management Training
Humanities 
Management training with emphasis on the decision making
Includes an exciting 12-week Entrepreneurship project

Personalized coaching by a French entrepreneurial coach
Icam Pedagogical approach
This master's level program calls on an interdisciplinary approach to problem solving thanks to the core engineering and technical courses that make up the undergraduate program.
For example, the business development project requires students to combine skills in pluritechnological areas, project management as well as business creation abilities.
Location
Students may enrol in an academic semester at any of Icam's campuses in France: Lille, Paris, Nantes or Toulouse. 
Language
Two separate tracks are available, either in English or French
Depending on the students' proficiency in French, they may choose to follow the Academic Fall Semester offered in English or in French. 
The full English track is available at Icam's Toulouse campus, whereas the French track is available at all 4 French campuses (Lille, Paris-Sénart, Nantes and Toulouse).
A B1 level in English is recommended for Toulouse's full English track. A B1 level in French is recommended for the French track.
---