Master Thesis of Engineering
Overview
Program at a glance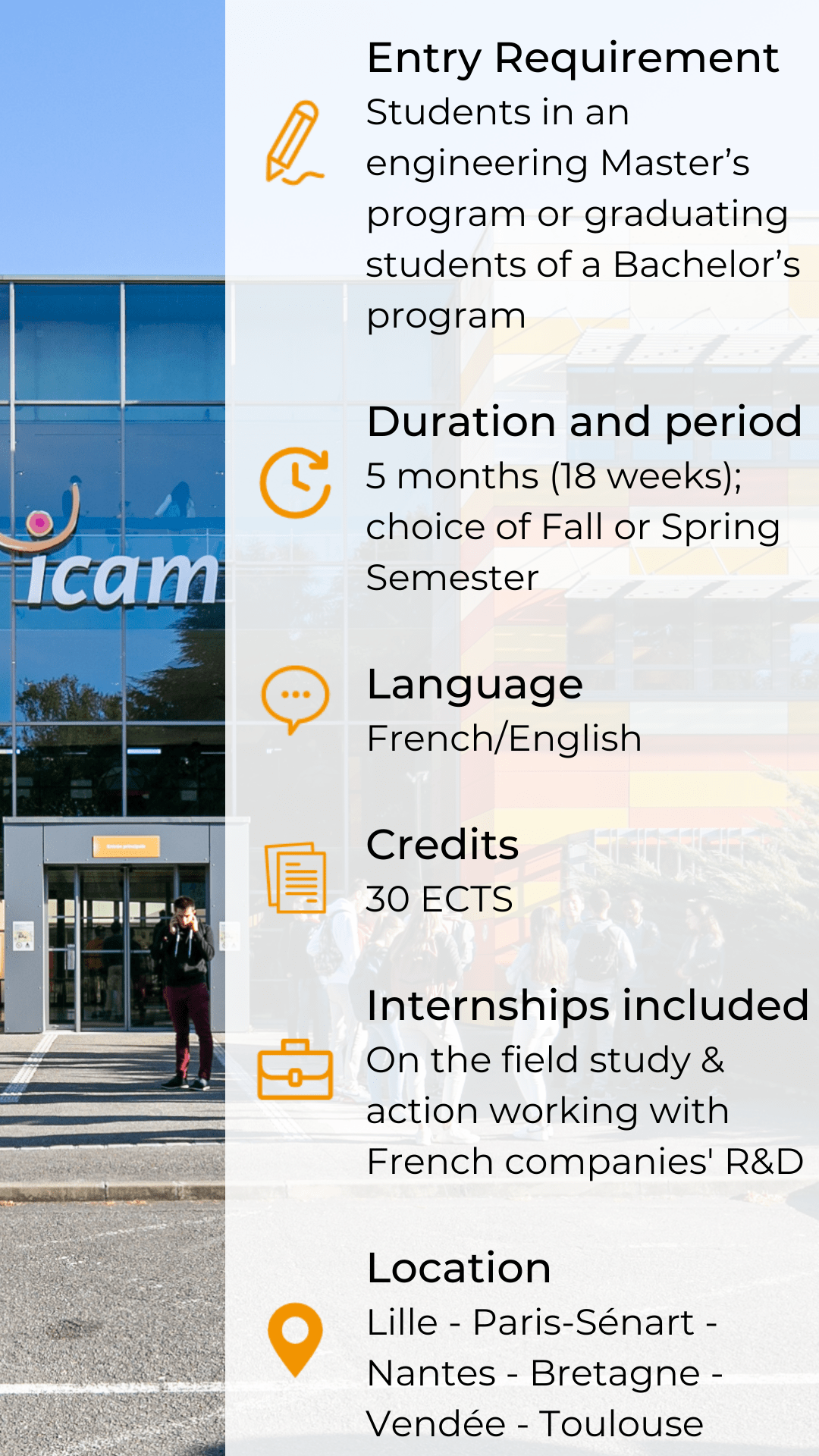 Why choose this program?
You benefit from an essential experience linked to, and recognized by, the economic world.

Icam launched it's R&D – Services to Business – in 1980. Since then, Icam has been working on real-life problem situations raised by its industry partners on a wide range of technological or organizational fields. 

You will be part of a project team tasked to perform technological transfers and R&D for industry partners during your 5-month (18-week) thesis period. This experiential learning is a very powerful and effective tool to prepare you for the future.

The topics are normally for master-level thesis work, but can be adapted for students working on their bachelor-level thesis.
You shift from student scholar to junior consultant

Given that the problem situations arise from real-life company issues and are funded by the industry partner, the project teams are held accountable to results and professional quality of work.

The project teams are in direct interaction with a company representative. This is an excellent springboard to prepare you for your professional career and professional life.
You benefit from the rich expertise within the "Services to Businesses Unit Pole" 

Icam experts supervise each project team and provide the expertise that students may need in terms of technical, scientific, engineering or project management topics.
TIP: Make the most of your time in France and stay for 2 years and get an Icam general engineering diploma! Invest a whole year at Icam with the first semester taught in English of French, and a second Master's level concentration semester at one of the 4 possible locations. Top this off with a second year of R&D and an internship. It will let you truly experience French culture, gain valuable foreign language skills and be exposed to French companies.
Program highlights
An Industrial R&D thesis means that the topic is selected and funded by one of Icam's industry partners. This ensures a very concrete problem statement, with regular follow up from a representative of the company. 

Icam has topics in various business lines, handling approximately 300 projects annually, with around 100 project teams on the move. 

This entails a 5-month full-time work defined within the framework of a contract with a company.

You will be carrying out a technology transfer to solve a problem within a company

You have the opportunity to indicate your preferred field of science or technology. This preference can direct you to one of the 6 possible Icam campuses.

You will collaborate with a fellow student.

You will work both at Icam's laboratories and at the company, depending on the type of project.
Location
Within the laboratories of one of the 6 Icam campuses in France, depending on the subject

Depending on the project, you may adapt the time spent on company premises. 
Language
A mix English / French both for oral communication and written documents and resources. Working alongside a French-speaking colleague will make it possible for you to pick up French quickly. 
Resources
Icam ensures that all the resources required for project success are within reach of the junior student consultants.
Icam experts and researchers

Proven methodological supports

Documentary base of numerous previous studies

Cutting-edge tools 

CAD, modelling and calculations (design)

workflow modelling

plastic recycling (injection, extrusion, 3D printing)

measuring equipment (material characterization, NDT, etc.) 

electronics and connected objects

custom-made test benches

assembly – prototyping
English subtitles coming soon.
---