Master's Level Concentration – Spring Semester
Overview
Program at a glance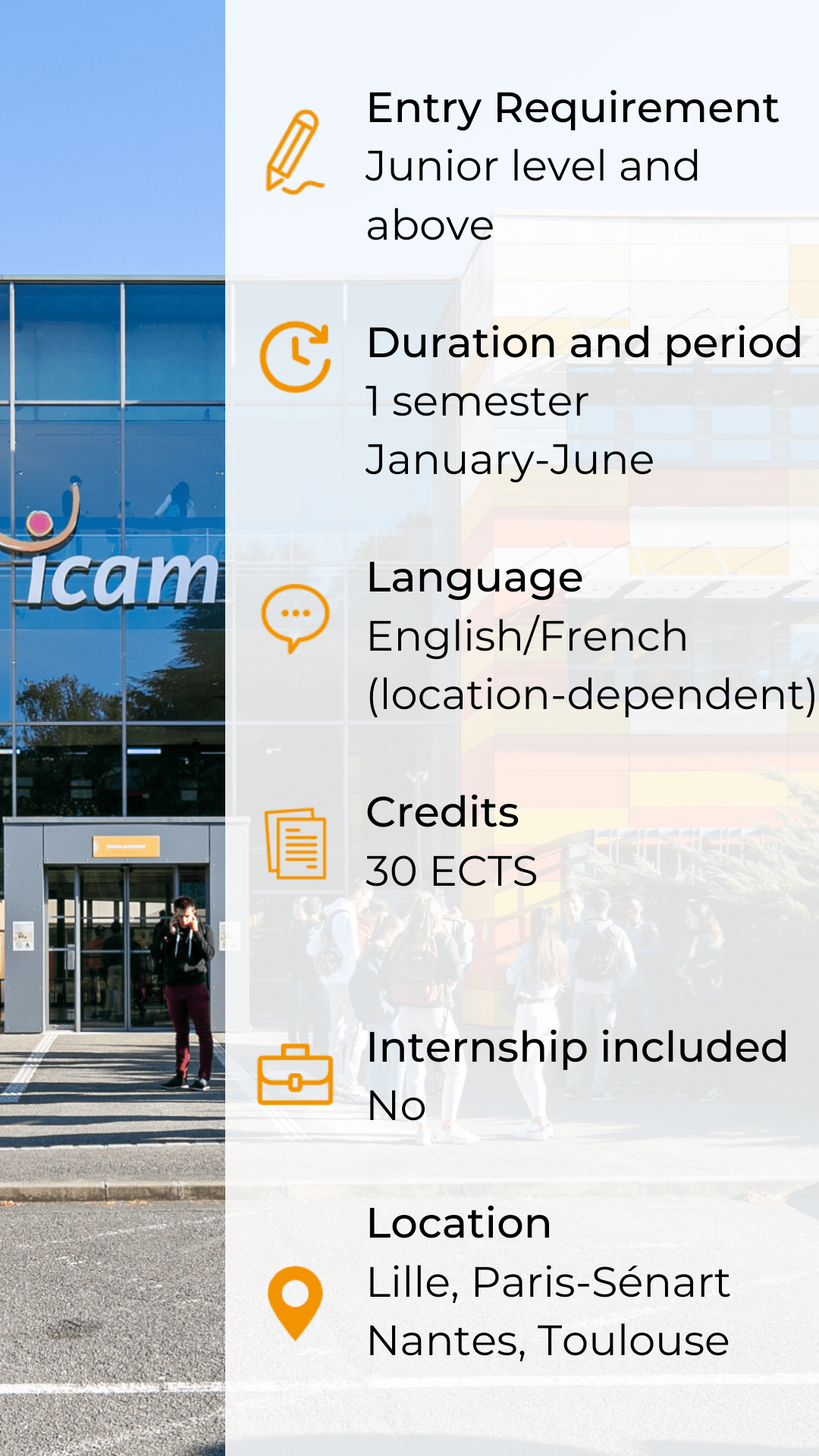 This semester-long program is designed to expose the future engineer to the various engineering domains that are central to today's increasingly complex interrelated environment. 
Technical training in Mechanical & Electrical engineering, Digital automation, are supplemented by subjects and projects in Industrial Management, Entrepreneurship and Social Sciences, equipping the student with skills needed as future decision-makers and leaders.
The Master's Level Academic Semester (SPRING) – shown in orange below is part of a 4-semester course allowing students to choose to study at Icam for different durations, from 1 to 4 semesters.
Theory meets practice and exposure to industry in these modules. Focus is placed on an integrative approach to the fields of engineering, industry and business. The program is open to undergraduate students in their final year.
Note: Depending on their professional and academic goals, students may choose to participate in one of the following options:
Option 1a: Master's Level Academic Semester – Fall
Option 1b: Master's Level Academic Semester – Spring
Option 2: Master's Level Academic Year (combination of Options 1a and 1b)
Option 3: Master's Level Scientific and Technical Research Semester (Fall or Spring Semester)
Option 4: Icam General Engineering Dual Degree – 4 semesters, with 2 Academic Semesters + Research Semester + Internship (Option 2 + Option 3 + Internship)
Why choose this program?
The courses are taught by experts from specialized companies. Case studies and projects are taken from real technological and industrial problems.

You have the opportunity to acquire both theoretical and applied knowledge and skills in your choice of concentration areas to be selected from the main themes below. The availability of topics are specific to each of the Icam campuses (see in Program Structure).
A concentration area will be designated as a Major, whereas 1 to 2 modules will be designated as Minor modules, depending on the campus.
Major concentration areas have more course and project hours and credits compared to the selected minor concentration areas.
Thanks to the different locations and concentrations specific to each campus in France, you can choose where to study by preferred region, courses, or language of instruction.
TIP: Make the most of your time in France and stay for a full year!
Invest a whole year at Icam with the first semester taught in English or French and a second Master's level concentration semester in French at one of the 4 possible locations. It will let you truly experience French culture, gain valuable foreign language skills and have access to French companies.
Pedagogical approach
This master's level program calls on an interdisciplinary approach to solving problems thanks to the engineering and technical core courses that make up the undergraduate program.
For example, the business development project requires to combine skills in pluritechnological areas, project management as well as business creation abilities.
Our teaching staff, who have industry backgrounds and are experts in their field, teach  lectures or coach student projects, providing  a practical and up-to-date approach to real world  challenges in industry.
Case studies and project work for each concentration ensure a very hands-on learning experience
Location
Students may enrol in an academic semester at any of Icam's campuses in France: Lille, Paris, Nantes or Toulouse. 
Language
A B1 level in English is recommended for Toulouse's full English track. A B1 level is recommended for the French track. 
---